'Legends of the Turf' is Newmarket's equivalent of the Hollywood Walk of Fame. This community project is designed to recognise the significant contributions of people and horses to the town's horseracing heritage.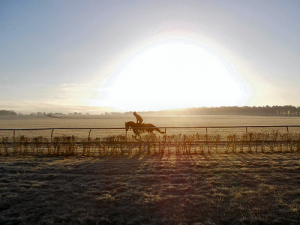 The project will be officially launched In July 2014 with the first 6 commemorative paving slabs being laid in Newmarket High Street. The first recipients of these awards were voted for by the community and recognise the contribution made in three different categories: Horses, Jockeys and Other Racing Personalities.
From 2015 onwards, three additional paving slabs will be laid each year based on nominations and voting by the general public. It is hoped that this project will add interest to the town centre for residents and visitors alike, and encourage young people to learn about the history of their town.
A booklet will be produced with information on all of the characters honoured and details of other historical features of the Town.
This community project has been made possible by funding and assistance from Suffolk County Council, Forest Heath District Council and Newmarket Town Council; and by donations from various local individuals and organisations.
For more information please contact info@legendsoftheturf.org.uk.